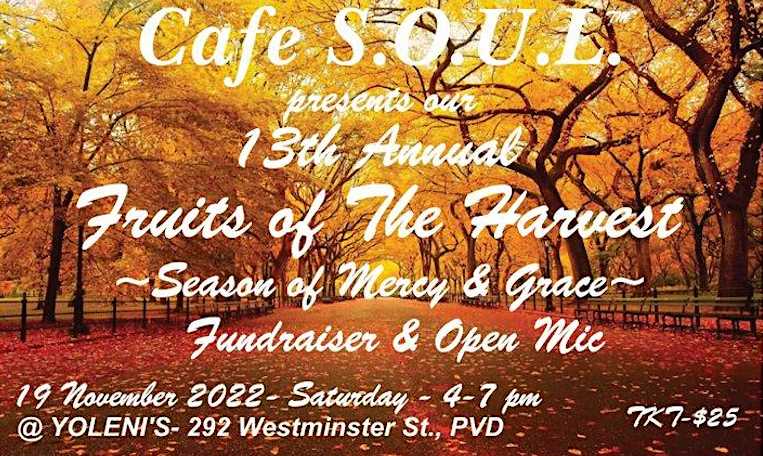 About this event

Cafe S.O.U.L.™ on the 19 November 2022-Saturday will be hosting this year, our 13th Annual ''Fruits of the Harvest'' ~ Season of Mercy & Grace ~ Fundraiser/Open Mic in-person @ Yoleni's Providence: Greek Restaurant and Market in Providence, RI. https://providence.yolenis.com'.
The time is urgent now! Our annual fundraisers help many individuals and families each year, definitely more during the winter season and especially more now than ever!!
We all are in the midst of global crisis and high inflation at 8.3% as of October 2022, which is having an immense impact on individuals/families experiencing dramatic price rise in rental properties, rental evictions, high mortgage rates and foreclosure, high rising food pricing, unemployment, health issues, loss of health insurance coverage and homelessness.
Please help Cafe S.O.U.L.™, as we raise money to expand on our capabilities and continue to help provide safety and monetary support to more local families and individuals throughout Providence and other local cities in Rhode Island.
We at Cafe S.O.U.L.™, are hoping to reach our goal of raising $5,000 by the 19 November 2022. Thank you in advance! Which forty percent of all proceeds raised will be given to, two local non-profit agencies and sixty percent will be given via Visa© pre-paid gift cards, to individuals/families in Providence and local cities in Rhode Island. Thank you all in advance and for continually helping Cafe S.O.U.L.™ every year, making a difference for the well being of others in our community in need of a helping hand during the Thanksgiving Season and beyond!
Purchase Tickets Here!!
God Bless!! Cafe S.O.U.L.™ , Contessa & Janne't Brown
**If your unable to attend, you can make a donation to our
PayPal: https://paypal.me/Cafe2009
Venmo: @CafeSOUL2009
CashApp: $CafesSOUL2009
*Sponsors - TBA & Updated weekly

Contessa Brown & Jannet Brown
Organizer of Cafe S.O.U.L.™ 13th Annual- Fruits of the Harvest - Fundraiser & Open Mic
Contessa Brown: Cafe S.O.U.L. Foundr/CEO/Director
Jannet Brown: Cafe S.O.U.L. Chief Operating Officer
© Copyrighted 2022 PHENOMENALLY & SPIRITUALLY MADE..... CAFE S.O.U.L. EST. 29 AUGUST 2009-PROVIDENCE,RHODE ISLAND