Jingle Composed/Performed by Track Lord Studio
Cafe S.O.U.L.
TM

''

A Place For the Divinely Creative to Connect '' TM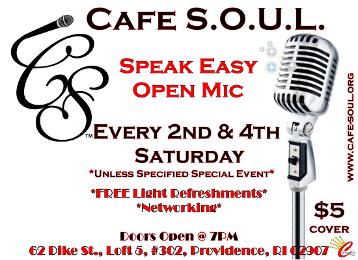 Our Mission

of Cafe S.O.U.L.
Is a portal of Collective Creativity, integrating, healing, education,sanctuary,music,art, and inter-connectivity...
To create the experiences of ''THE SPIRIT OF GIVING'' continually through the multicultural expressions of ARTISTS through anymediums of ART (i.e. spoken word, authors, motivation speakers, business owners/
entrepreneurs
etc.), .
Which we classify as a ''MULTI-DIMENSIONAL'' platform to allow one to
creatively express one's individuality, and continue to pursue...
''ONE'S LIVING DREAM''...
Through allowing the expression of ones passion, using many diverse art
forms as tools. Allows one to continue ''THE SPIRIT OF GIVING'' and
each ''VOICE'' to be heard.
We present commerce: Cafe S.O.U.L. as a vehicle for insight and for action in the aid of creating a better ''WORLD''...
For your convenience, you can pay the door cover with your debit/credit card. We accept the following credit cards listed below:
**Feel Free to Donate below **
What is Cafe S.O.U.L.?
Ca
fe S.O.U.L., Est. 29 August 2009 in Providence, Rhode Island,
is a positive alternative to Clubs and Bars. Based on Christian Principles, but open to everyone from all walks of life.
Bring people of various walks of LIFE together, through ART - SPOKEN-
WORD,POETRY, CLEAN COMEDY, NETWORKING, MOTIVATIONAL SPEAKERS,PRIVATE EVENTS, ETC...
Upcoming Venues:
*********************************************
2014
**Beginning January 2014, Cafe S.O.U.L. will be operating every 2nd and 4th Saturday of the month; as we will be bringing Cafe S.O.U.L. on the road to a city near you!! Stay tuned!**
**FREE Light refreshments are served at each venue**
December 13, 2014 -
Speak Easy OPEN MIC @ 7PM | FREE/ NO Cover
December 27, 2014 -
Speak Easy OPEN MIC @ 7PM | FREE/ NO Cover
2015
Venues To Be Announced...
Contessa Brown (Founder/CEO/Director)
cafesoul2009@gmail.com
Janne't Brown (Co-Founder and COO)
jbrown.coocafesoul2009@gmail.com
Providence,

Rhode Island

02907