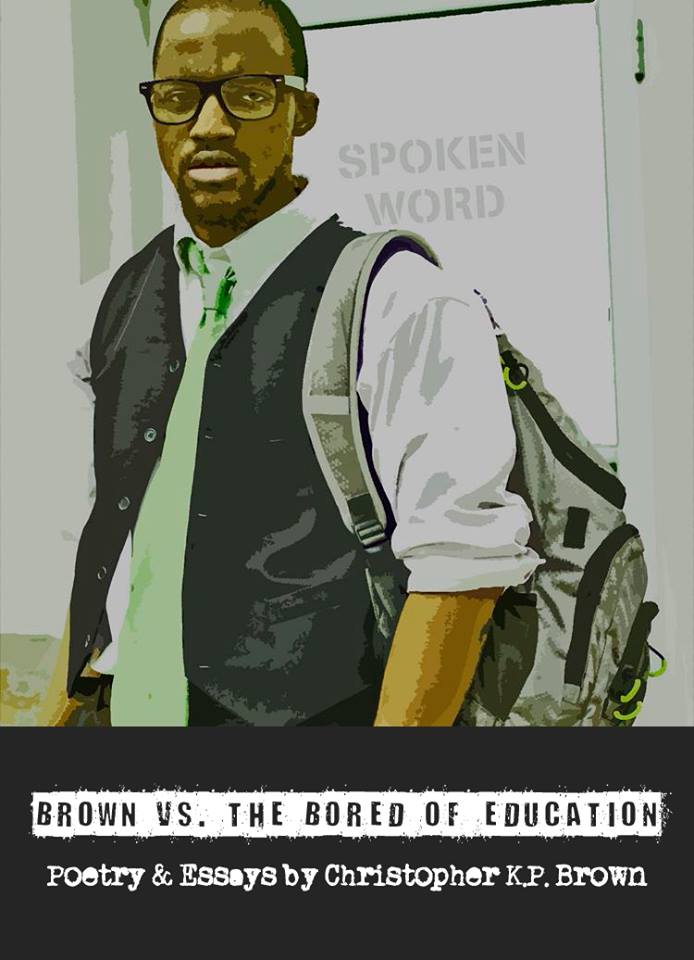 It is amazing how persons cross our paths and a divine connection is made. I met Christopher K.P. Brown at a poetry slam at a place called the Pigeon in Philadelphia, PA. His theatrics and composition of words had my ears hooked, not on phonics but a mixture of Ebonics to describe what is known as life. In his recent chapbook, BROWN VS. THE BORED OF EDUCATION: Poetry & Essays by Christopher K.P. Brown, he invites us into his life, his world. A world of a young educated African American male juggling the day to day tussles of life, Love, politics, religion and culture, etc. is being etched in the corners of your mind. Below is a brief breakdown of two of my favorite poems of the many poems in the book (I enjoyed each one!).
The first poem I will highlight is called The Sweetest Taboo (Part 2). This piece reaches deep into the psyche that many of our African American women face. It speaks upon the use of promiscuity as a way to promise themselves their self-identity. He prescribes the early symptoms of self-identity crisis due to previous endurances of heart break. Each time this woman in the poem seeks a man, she is seeking her identity that coincides with the lineage that is woven in her genes. It is clear that she is not looking for love, because that is not a part of her identity or value. Rather, her value is attached to her body in which she swaps for a mere meal. Which, in fact, is not a mere meal, but is some kind of rite of passage for temporary companionship. In the end the gentleman who treated her for the meal who also enjoyed her "meal" dismissed her because she did not know her worth.
I think this poem was well executed and a lot of women, whether they want to admit it or not, can relate to it one way or another. It is very interesting to see this from a man's perspective, his view of a woman who does not know her worth. I liked the simplicity of the poem because it allows the reader to get a very clear message from the words being read.
Teaser excerpt from BROWN VS. THE BORED OF EDUCATION: Poetry & Essays by Christopher K.P. Brown:
The Sweetest Taboo (Part 2)
…but the fact that she gave it up on the first night
Was making him think twice
Said, I could tell you're not looking for love
But that's exactly what I need in my life…
Another piece I enjoyed from the chapbook was a piece titled Death vs. Destiny. This poem really drew me closer into the reality of many of our African American men. It describes the fear of a young man of not knowing whether or not they will survive to see the age 25 or even the age of 21. The piece indicates that although he as a young man knew he had a purpose to live, he wasn't confident that he would be able to fulfill that expectation. The expectation was not to fulfill a purpose with a gift, but instead, a promise of death. This pattern of death among our black brothers has been witnessed for decades even to a few recognized public figures written in the poem such as 2 Pac and B.I.G., as well as our present day Trayvon Martin's who mirror the Emmitt Till's of our parents day. The poem also list a few that were granted the opportunity to see their 30's but not their 40's like Malcolm X.
To further the impressionable patterns, the poet expresses how some of his very own childhood friends have fell victim to this statistic. His emotions are relayed in each line, of how daunting it is to be a black male and feeling as though he should be departed from this life by now, according to the day to day data of death of young black men.
I truly enjoyed the poet's transparency to allow readers such as I into his world of emotions. As an African American woman, I can only imagine these feelings, because it is not a part of my immediate reality. Though I see it on TV, it is not a daunting fear I have to carry with me every day. I appreciate Christopher K.P. Brown taking the time and courage to be the voice for young black men who feel like this constantly. This allows readers who can relate know that they are not alone in this feeling or epidemic.
Teaser excerpt from BROWN VS. THE BORED OF EDUCATION: Poetry & Essays by Christopher K.P. Brown:
Death vs. Destiny
"…my heroes never held their grand babies
So what could I tell you about passing along wealth
To a generation I'd never get to see…"
Overall, Christopher K.P. Brown's use of phraseology and terminology gives you a dose of knowledge each time you turn the page. These are pages of his life and I highly recommend that you purchase this book and experience it for yourself.
The chap book can be purchased at - www.dancingwithscars.com.
About Christopher K.P. Brown:
Christopher K.P. Brown is a spoken word artist and entrepreneur; the owner and founder of 2 Pens & Lint LLC chapbook publishing company. Moreover, he is the co-founder of Poetry247.com, in which this website promotes spoken word venues in cities such as Philadelphia, New York City, Washington, D.C., and New Jersey. Make sure to visit his websites to learn more about him, his work and his business.
© Copyrighted 2019 PHENOMENALLY & SPIRITUALLY MADE..... CAFE S.O.U.L. EST. 29 AUGUST 2009-PROVIDENCE,RHODE ISLAND